Seasonal Speciasl
now browsing by category
With summer finally here, Terminal Supply Company, along with Dyantex®, a major manufacturer and packager of automotive, heavy duty, fastening, industrial, and marine chemicals, has chosen a few essential product lines to offer as our Summer Specials.
We are featuring some of our most popular sealants and repair adhesives, lubricants, and electrical cleaners, that you may find yourself needing throughout this season in all types of applications.
Be ready and able to tackle any project – from attaching that rearview mirror to quieting the little squeaks that almost every machine or vehicle seems to have.
Dynatex® Sealants and Repair Adhesives
Dynatex GTX Multi-Seal Adhesive/Sealant – White (DY-49391-SP): This adhesive sealant takes the place of traditional polyurethane. The fast curing provides permanent elastic adhesion to a number of surfaces with excellent elasticity. The GTX gives the truck, trailer, RV, and container industry a safer, quality adhesive/sealant. Like polyurethane, the GTX is designed to resist on-the-road flexing and adhesion/sealing wear and tear. GTX is paintable in 30 minutes, sandable, non-yellowing, non-streaking, and solvent-free.
Rearview Mirror Adhesive (DY-49401-SP): A professional strength adhesive and activator that secures rearview mirror mounts to windshields. Adheres to the windshield within 40 seconds and allows mirror mounting in approximately 15 minutes. Easy 2-step process.
Super Glue Gel (DY-49433-SP): Works on vertical surfaces – will not run. Extra strength formula bonds rubber, vinyl, most plastics, glass, leather, cork and more.
Battery Terminal Protector (DY-49678-SP): This product prolongs battery life by protecting battery terminals and connectors against moisture and corrosion, and prevents interruption of current battery flow. Also, resists heat aging.
Rubberized Undercoating (DY-52175-SP): Used to prevent rust and deaden sound.  Undercoat leaves a firm, black, resilient, rubbery texture, which protects against rust and corrosion. Paintable. Quiets road noise. Also for wood fences, post preserver and tree wound dressing. Adheres to any surface.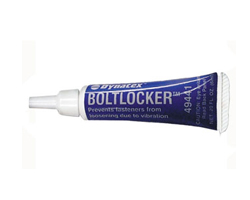 Boltlocker (DY-49441-SP): Ideal for 1/4″ – 3/4″ diameter nut and bolt assemblies. Fills gaps up to .006″. Apply prior to assembly and easily remove with hand tools for servicing.  Eliminates need for stocking lock nuts and lock washers. Use on cup and core plugs, pulley bolts, valve cover bolts, drive shaft bolts, oil pan bolts, intake manifold bolts, and more.
Anti-Seize Lubricating Compound (DY-49584-SP): Protects against corrosion between dissimilar metals. Resists water, salt solution, most shop and automotive fluids.
Silicone Compound (DY-49593-SP): A silicone based lubricant that protects rubber and plastic gears. Prevents drying and cracking.
White Lithium Grease (DY-49594-SP): General purpose lubricant. Protects against rust and corrosion. Minimizes friction. Reduces wear to equipment. Increases service life. Can be used on door, hood and truck latches, hinges and compartment springs, seat regulators and tracks, wiper mechanisms, brake parts, and distributor cams.
Heat Sink Grease (DY-49643-SP): A grease-like silicone material, heavily filled with heat conductive metal oxides. Used as a heat transfer medium in electrical and electronic applications for facilitating heat dissipation. Withstands high and low temperatures (-65°F to 400°F), water resistant, chemically inactive, and hydrolytically stable. Has also been found useful on thermocouple and thermometer wells, mounting semi-conductor devices and thermal joints.
Disc Brake Quiet (DY-49661-SP): Dampens vibration at caliper/brake pad interface to eliminate brake squeal. Resists diesel fuel, ethylene glycol, water, grease and brake fluid.
Penetrating Oil (DY-52125-SP): Prevents rust and corrosion by depositing an ultra thin film that coats and penetrates the surface pores of metal. Penetrates quickly to free rusted bolts, nuts, and sliding parts. Displaces moisture to dry out damp electrical parts.
Contact Cleaner (DY-52146-SP): Removes grease, dirt, oil, and other surface contaminants from electrical/electronic deices. Fast drying, leaves no residue, and cleans easily. Safe on most surfaces. Extremely flammable
Engine Degreaser (DY-52165-SP): Quickly removes grease, oil, dirt, and other contaminants. Works on steel, aluminum, copper, and other metals. Safe for use on rubber and plastic. Can also be used on driveways and garage floors. 
Glass Cleaner (DY-52185-SP): Non-streaking formula cuts through stubborn dirt and film without smudging. Removes tar, road film, insects, salt, grease, and paint overspray from glass. Also can be used on mirrors, chrome, porcelain, stainless steel, and other hard surfaces. Contains no CFCs.
For more information on these or our other products, visit our online catalog or call toll free: 800-989-9632.
Featured on our 2015 Spring Special Flyer: Weather Pack 1-Way and 3-Way Pigtails
Weather Pack pigtails eliminate the need to make a precision crimp in the field with loose components. They are easily spliced into existing wiring systems with adhesive-lined, heat-shrink butt connectors, and are as reliable as a factory crimp made with OEM presses and Weather Pack tooling.
Our pigtails are made in the USA from Delphi/Packard Weather Pack components.
The Weather Pack pigtails made of 14 gauge GXL wire and have 10″ wire leads
View our entire line of Weather Pack Products
View our entire line of pigtails
View all of our 2015 Spring Specials